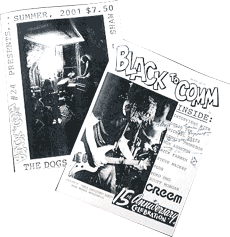 If you search closely on the net, you can find interviews with ex-MC5 members on some websites. Relative to Wayne Kramer in particular, there are many including short ones. But they are all written in English. As an interview available in Japanese and relatively newer, there is one that appeared on the April '00 issue of Strange Days (Japan) where Toshikazu Otaka interviewed Wayne Kramer on the occasion of the release of "Big Bang!" (Rhino).

Of the interviews available on the web in English, I translated some that I thought would be interesting and helpful for the Japanese who are going to explore the MC5's music. Picked up here are a series of interviews conducted by Ken Shimamoto, who has issued many insightful rock reviews from Fort Worth, Texas. You can read the original transcription of these on an E-zine I-94 Bar except the one with Mick Farren, which appeared on the 23rd issue of a fanzine "Black To Comm" published by Ken. You can read the original text on his fan site, Funtopia.

I should have interviewed these gentlemen for myself, but I was totally intimidated, so an impudent email was sent to Ken to request that he allow me to use these for my website. He responded instantly with generous permission, of which I'm very appreciative.

Re Fred Smith, it's not an interview by Ken - I picked up something different. Please enjoy.